Suyama spring is the company which does production of a spring and sale.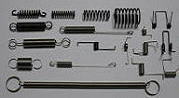 Zip code 146-0083
2-15-10, Chidori, Ota-ku, Tokyo
TEL03-3750-6545
FAX03-3750-6373

---
I'll take an order from 1.
I'll treat and sell all products by mail order.
I do personal sale.
---
Build-to-order manufacturing
1.

 2.

 3.

 4.

 5.



I even receive the order for mass production from an experimental production in correspondence and an offer of a drawing or a sample. When knowing the original shape even if it's damaged, a sample is OK. Please request an estimate.
---
For home and housing


1 For doors 2 For sash Crescent 3 For mailboxes 4 For oil lighters.
Acquisition of a spring is difficult and is the kind with a lot of orders seriously.
---
For handicrafts and reels
When a due date of several days is necessary and hurried after an order, please inquire.
1〜3



For reels For spring telephones For echo microphones For fishing balances For spring drums.
---
Immediately, and, the finished goods which can be used for small number of use conveniently.

1.Compression 188 kinds of ready-made article.
2.Tension 132 kinds of ready-made article.
3.Torsion 10 kinds of ready-made article.
It's mail-order limitation, a due date is usually shipped off within 3 business days.
---
The material
The handling material is of primary concern, SWC hard steel line, SWP piano wire and SUS stainless steel. Other material will be order.
---
Price payment
Payment of the price is transferred to a convenient bank of one of Sumitomo Mitsui Banking or a YUUCHO bank. The amount of payment is the making price, a consumption tax and shipping charge.
---
The nearest station
Tokyu Ikegami line Chidorichou station, approximately, 10 minutes on foot and Tokyu Tamagawa line Musashinitta station for approximately 8 minutes on foot. When coming, please be sure to contact telephone 03-3750-6545.
---